It was a fitting tribute to the multi-talented and legendary thespian.
By Sydney Srinivas – Published in Indian Link.
"Girish Karnad was a man of versatile talents which were not limited to acting as the hero in the movie Samskara," Tom Cowan told a Sydney gathering recently.
He has known Girish Karnad since 1970 when he acted as cinematographer for the movie Samskara which won many awards and became a trendsetter in Indian cinema.
Cowan went on to describe the circumstances under which he met Karnad in Madras and traced his long friendship with him. He also narrated the hardship they underwent in making the movie.
He was speaking at a tribute event organised in memory of the multi-talented Girish Karnad who passed away on 10 June this year, aged 81. Organised by the Sydney-based Anivaasi Arts Collective, the event brought together people who had felt the Karnad flame ignite a love for the arts. It became an evening of nostalgia, tales of inspiration, and a revisit to some of the legendary man's creative works.
The program started with an invocation from Karnad's iconic 1971 play Hayavadana which looked at the themes of personal identity and female emancipation. To conclude, Anivaasi artists chose the same play again, this time performing its songs, led by Sudarshan.
In my own tribute to the great writer, director and actor, I focussed on him as a playwright, not only because he influenced my own reading to such a great extent, but also because the theatre scene evolved so strongly with him. The legacy of the man has left an indelible mark upon Kannada theatre in particular, the new directions given by him taking it to a level on par with that in Marathi and Bengali languages. His plays left the audience deeply thoughtful, even disturbed.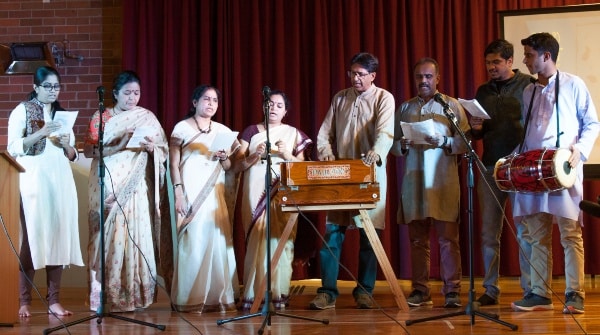 Much of his works continue to have an all-time relevance, even those that seem to be historical or mythological. Examples from Thuglaq as well as Thaledanda, which I quoted, have long resonated with me.
The evening also included:
Video messages from Sukanya Kanarally in Wellington NZ and Vinathe Sharma in Brisbane were played out. Sukanya admired his ability and craftsmanship in translating from past into present. Vinathe observed that he was a strategist and excelled in whatever he did.
We heard from Vinaya Rai of Adelaide, whose tribute on Indian Link was replayed on this occasion: Karnad was a bold and daring playwright, she described.
Sudarshan narrated a poetic work, his own composition about how Karnad brought out the activist in him.
Shashikanth presented a reading of some interesting passages from Karnad's autobiography Adadta Aayushya (The Play of Life).
A team of actors read an act from the play Benda Kalu on Toast.
The audience also enjoyed clips from Kannada movies featuring Karnad – Samskara, Vamshavriksha and Kadu.
It was amazing to see and hear from so many people who have been touched by the great Girish Karnad's life and works, and continue to be so even as they live so far from India.
Indeed, as MC Bhavani Rao observed later, it was a fitting tribute to the multi-sided talent of Girish Karnad.